Staff
Office of the Ombuds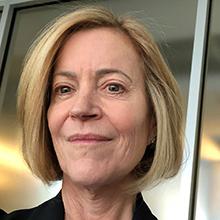 Jennifer Pinto-Martin
Ombuds, Viola MacInnes/Independence Professor of Nursing
pinto@upenn.edu
Dr. Jennifer Pinto-Martin was appointed Ombuds for the University of Pennsylvania on July 1, 2020.
A faculty member at Penn since 1990, Dr. Pinto-Martin is a Professor in the School of Nursing and the Perelman School of Medicine and serves as the Executive Director of Penn's Center for Public Health Initiatives. Jennifer served as chair of the Faculty Senate from 2018 to 2019.
An expert on autism and developmental disabilities, Dr. Pinto-Martin served as the Director, of Penn's Master of Public Health Program for 12 years. From 2001-2018 she also served as the Director of the Pennsylvania Center for Autism and Developmental Disabilities Research and Epidemiology, which is one of six CDC-funded regional centers that together are conducting the Study to Explore Early Development (SEED). She holds appointments as a Senior Scholar at the Leonard Davis Institute for Health Economics (LDI), and the Center for Clinical Epidemiology and Biostatistics (CCEB).
Dr. Pinto-Martin earned a bachelor's degree from Stanford University, and a master's degree in public health and a PhD in epidemiology, both from the University of California.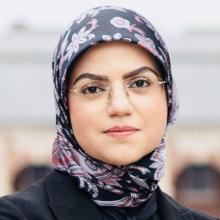 Waged Jafer
Deputy Ombuds
wjafer@upenn.edu
Dr. Jafer joined the Ombuds office on December 1, 2022 as the Deputy Ombuds. Prior to her arrival at Penn, Dr. Jafer established the inaugural Ombuds office for Williams College in 2021. Prior to that she served as the Regional Ombudsperson for Near and Middle East with the International Committee of the Red Cross in Geneva. Her extensive experience in conflict resolution has been mainly in higher education in Canada. She has served as the Ombudsperson for Quest University Canada as well as the Ombudsperson for UBC-Alma Matar Society. For two years she served as the Alternative Dispute Resolution Specialist at the Independent Investigations Office at UBC where she was tasked to develop the ADR framework as well as Restorative Justice program for cases of sexual misconduct as well as harassment and discrimination in that office. She has worked as a conflict management consultant and a sessional faculty member while completing her doctoral work at UBC.
Dr. Jafer earned a bachelor's degree from Carleton University and a Master's degree in Conflict Studies from the University of Ottawa-Saint Paul and a PhD from the University of British Columbia.